Snow again....in April. But instead of capturing it the way I usually see it, I went looking for it in a different way...and found this old truck. I liked the contrast and the vintage look it had.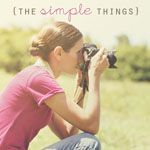 Linking up with Simple As That for The Simple Things---
(finding that simple thing that brought joy or a smile)...even if it is snow in April!